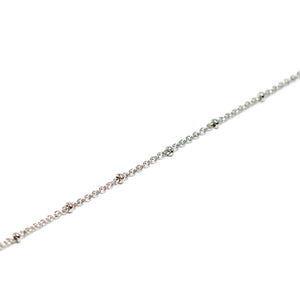 Create a lasting look by building your own charm necklace. This silver station charm necklace chain is a durable perfect base for all of your special charms. You can add a monogram for yourself or your children or birthstones to celebrate birthdays. Celebrate your birthday or family members birthdays all year long. Add birthstones or initial charms for the perfect Mother's Day, new Mom, bridal, birthday, or just because gift. This classic charm necklace chain can be worn everyday, and are essential to everyone's jewelry collection.
--
Gold Station Chain Charm Necklace Multiple Lengths 
Small bead accents
Durable Chain
Steel/Brass Base
Sterling Silver Plated
Beaucoup Designs jewelry is jewelry to tell your story, tell your story with personalized charms, initials birthstones and so much more! Charms are a classic essential to everyone's jewelry collection. You can build on to your necklace with each passing holiday or special occasion. Our most popular length in our silver station charm necklace is the 18" which falls just below the collar bone.
Check out some of our newest arrivals on our Instagram