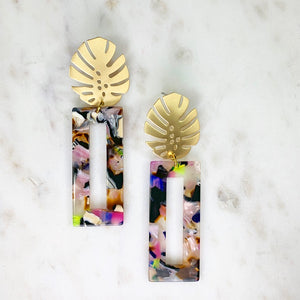 These lightweight trendy earrings add a fun pop of color to any outfit. These simple but trendy earrings are perfect for any occasion. Trendy and ever-so-stylish, these ultra-modern stud earrings are bedecked with the  modern acetate and gold-tone hardware. These earrings are perfect for spring, summer and fall.
--
Gold Palm Multi-Color Acrylic Earrings are from Teragram's Field Collection

Earrings Measure 3"
Lightweight
Stud/Post Style
Brushed Gold Accents
Multi-Color Resin Features Pinks, Purples, Blues and White
Our Gold Palm Multi-Color Acrylic Earrings with Brushed Gold Metal Detail add a pop of color to any outfit. Our trendy resin earrings are suitable for all occasions - from the office, every-day t-shirt and jeans to a girls night out. Colorful statement earrings are the new "IT" fashion accessory of 2019. The newest trend is growing so fast that you'll see them on runways, on fashion blogs, and worn by your favorite influencers and celebrities. Don't miss out and be late to the biggest accessory party of the year and get them while supplies last.
Check out some of our newest arrivals on our Instagram and make sure to follow us on Facebook
--
About Teragram Designs:
Leah Margaret Messer, daughter of owner Leah Ann Messer created Teragram Designs in 2015. Teragram being her middle name backwards (Margaret). A Baton Rouge native but local of New Orleans. She has a fine arts background and combines that with her love of natural stones and natures beauty to create each piece. Most all of her pieces are handmade. She hopes to inspire you with each piece to let your inner beauty shine.